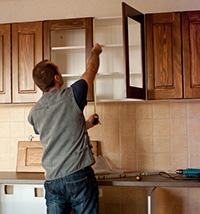 Super Cash For Houses is here to tell you that you don't have to spend thousands of dollars renovating your kitchen or bathroom to add value to your home. There are dozens of ways to increase the value of your home for under $100! In this blog, let's discuss the five best ways to add value to your home economically. Do you watch HGTV? Simply watching home makeover shows can provide great inspiration for adding value to your property and making your house feel like a home. It doesn't take a professional carpenter or an interior designer to make big changes. Check out the below tips from HGTV for some great decorating and remodeling ideas:
Tip 1: Paint, Paint, Paint
One of the simplest, most cost-effective improvements of all is paint! Freshly painted rooms look clean and updated — and that spells value. When selecting paint colors, keep in mind that neutrals appeal to the greatest number of people, therefore making your home more desirable. On average, a gallon of paint costs around $25, leaving you plenty of money to buy rollers, painter's tape, drop cloths and brushes. So buy a few gallons and get busy!
Tip 2: Cut Energy Costs
The amount of money you spend each month on energy costs may seem like a fixed amount, but many local utility companies provide free energy audits of their customers' homes. They can show you how to maximize the energy efficiency of your home. An energy-efficient home will save you money now, which can be applied to other updates, and is a more valuable and marketable asset in the long run.
Tip 3: Plant a Tree
If you aren't planning to sell your house today, plan for the future with a landscaping improvement that will mature over time. Plant shade trees — not only will mature trees make your home more desirable but a fully grown, properly placed tree can cut your cooling costs by as much as 40 percent. Mature landscaping is also good for the environment, providing a necessary habitat for wildlife while adding valuable curb appeal to your home.
Tip 4: Small Bathroom Updates Equal a big Return
Bathroom updates are always a smart move. Even if you can't afford a full remodel, small changes such as replacing dated wallpaper with a faux or textured finish and replacing old lighting will update the room without denting your wallet.
Tip 5: Low-Maintenance Landscaping
No question that shrubs and colorful plants will add curb appeal to any home, but when shopping at your local garden center, make sure that you "think green." Purchase plants that are native to your region or plants that are drought-tolerant; these require less water and maintenance, which means more savings to you and more green in your wallet. For more great tips and to read the full blog by HGTV, click here.